Who exactly is Bothersome Words?
Abigail Nathan is a professional editor with a background in copywriting, magazine sub-editing and legal editing. She set up Bothersome Words in 2004 and now focuses on copy editing, proofreading, structural and developmental editing. Originally from the UK, she lives in Sydney and has edited for various Australian publishing houses, including HarperCollins, Penguin Random House, Hachette and Harlequin, as well as UK publishers including Little, Brown Book Group, Orion and Gollancz, and small presses in the USA.
Her work for publishers has included editing authors such as Karen Miller, Ian Irvine, Traci Harding, Kylie Chan, Gavin Smith, Alastair Reynolds and many others, and she also edits for self-publishers including Mitchell Hogan, Maria Lewis and Aidan Walsh. Abigail regularly works with emerging writers — mentoring and helping them to develop their work. She edits commercial fiction and non-fiction for adults, young adults and children, and particularly specialises in genre – including speculative fiction (fantasy, science fiction, paranormal and horror), crime, romance and erotica. Her portfolio is available here: https://bothersomewords.com/portfolio/
Abigail blogs about editing, writing and reading at http://www.bothersomewords.com/blog and on Twitter at @BothersomeWords. She was a long-time volunteer and website manager for the Society of Editors (NSW) Inc. and can often be found at writing festivals and conventions locally and overseas, participating on panels and presenting workshops on editing and freelancing. She is a member of the Freelance Editors' Network and a mentor for Writing NSW and for the Queensland Writing Centre Writer's Surgery.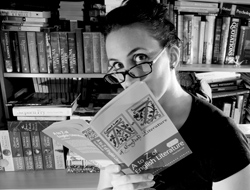 Projects
In 2014 Abigail began a project called "The Writer's Editor" in order to explore the different ways we learn about and understand stories and their construction. With grant support from the Australia Council Literary Board, she was able to speak to and survey writers and creators from different fields, genres, countries and backgrounds about their writing processes, in order to discover new ways to communicate with authors and help them develop their work. Having used the results of this research to develop her existing processes and workshops, in 2019 she updated and re-ran the survey and, with the support of NSW Government through Create NSW, was able once more to travel internationally to learn from writers from various fields and backgrounds, which culminated in the creation and development of the Bothersome Words Writing Clinic.